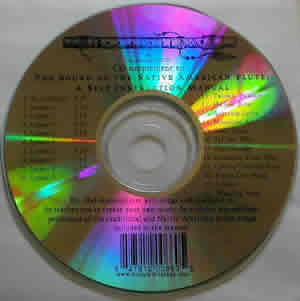 Model: T1000
---
CD Contents
Forty-five minute in-depth audio tutorial lessons on playing the Native American Flute, narrated by Dr. Hal Kacanek
Recordings of all the songs found in the written instruction manual including 6 American and 6 Native American folk songs
Track List
Nine lessons by Dr. Hal
Twinkle Twinkle
Michael Row
Amazing Grace
Mountain Air
Goin' Home
Tell Me Why
Zuni Sunrise
Lonsome Flute Song
Lakota Courting Song
Kiowa Love Song
Lullaby
Wedding Song
An in-depth Audio Tutorial by Hal Kacanek
The companion to our written manual. This audio CD follows the lesson plan in the manual, but includes additional information, tips, techniques and examples. Dr. Kacanek provides a step by step guide to holding the instrument, creating sounds, proper breath technique, and how to properly cover the holes. You learn the fingering of the right and left hands and advanced techniques such as cross fingerings.

Dr. Kacanek includes plenty of examples of common Native American song techniques, how to create your own songs and how to easily unlock the power of the pentatonic scale.

The training goes on to cover more advanced techniques, such as vibrato, ornamentation and overtones.

The disk also includes a recording of each song found in the instruction manual. This is extremely helpful in learning the songs, especially ones you may not have heard before.